I recently went to see Vivid in Sydney. My plan was to get in early, take my tripod and camera out and get some shots as the lights came on, then finish up and meet my wife and catch up with some friends for the evening.

I decided to head to the pedestrian walkway on the Cahill Expressway, above Circular Quay. The view would allow me to get a panorama with the Harbour Bridge and the Opera House.
I've been wondering why the lights for Vivid only come on at 6pm? Sunset was closer to 5pm, and by 6pm it had certainly become pretty dark. Personally I would prefer some blue in the sky rather than the darker nighttime backdrop.
Once the lights came on at 6pm I had been setup in my chosen location for a while. I was being careful with the tripod. The whole structure seemed to move every time a baus or truck came past, but fortunately general car traffic didn't seem to cause movement.
After the lights came on it became clear that exposures of just a few seconds would be best. Any longer and the changing pictures beamed on the Opera House became a blurry mess. Exposures of 5s or less also meant that the light trails from boats in the harbour were relatively short. The shot wasn't really working as I'd hoped.
I then took a couple of shots of the Harbour Bridge, using a longer exposure (10 seconds) and a slightly smaller aperture (f10). This allowed the boats in the harbour to blur, particularly the one in the bottom riaght corner which came in towards me and balanced the scene nicely.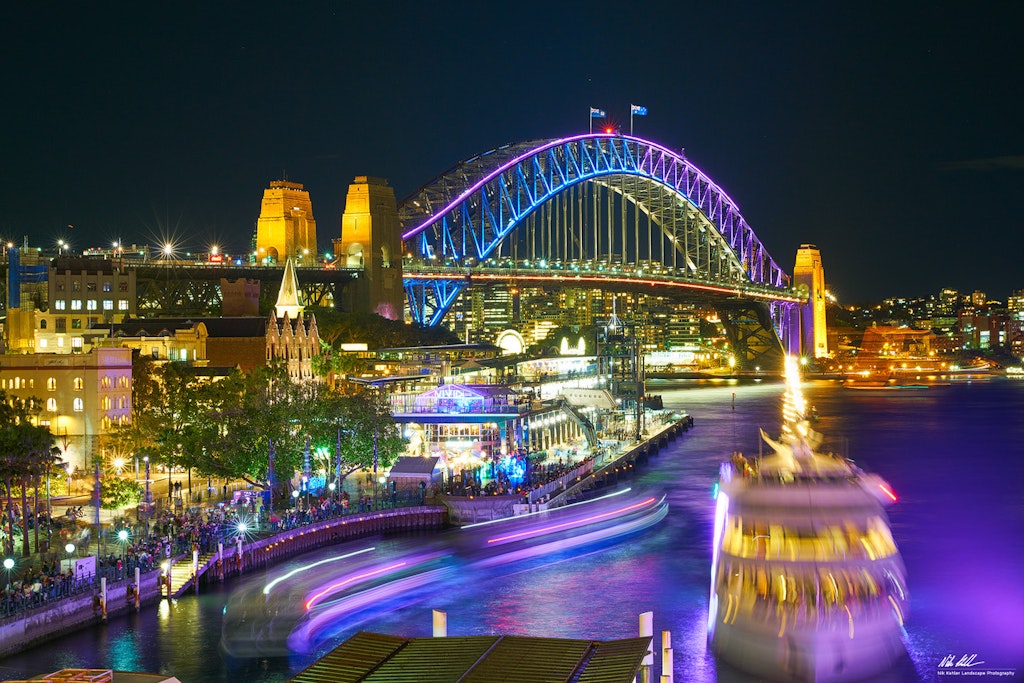 Later I stacked and blended two photos together using layer masks to accentuate this effect. The gap in the light trail in the water is due to the time that passed between the two exposures. I think this was a ferry or small boat coming in to shore with passengers.