Earlier this year I visited Kangaroo Island for the first time. We booked accommodation on the western side of the island near the Flinders Chase National Park, which made photographing the Remarkable Rocks and Admirals Arch accessible around sunrise and sunset. I was surprised at the size of the island and the kilometres covered travelling around.
Day 1
Throughout the first day, we made our way to the western side of the island, towards Remarkable Rocks. On the way we stopped for an echidna crossing the road and also saw lots of small kangaroos. When collecting the hire car we were told that accidents involving wildlife (or caused avoiding wildlife) were not insured between sunset and sunrise.

At sunset we were running late and rushed to set up in time. Colour was fading and I found it difficult to find a composition that did justice to the impressive formations.


Day 2

I was keen to try Remarkable Rocks for sunset once again as well as having a look at Admirals Arch. Rainy weather has set in around the National Park but I had hoped some colour would pop through the cloud as the sun went down, or I'd be able to get some long exposure shots with cloud movement.

We headed to Admirals Arch first, which was cold, wet and windy. The scene was grey but we did see quite a few Fur Seals. I attempted a few shots of Admirals Arch, but ended up wiping continual sea spray from my filters.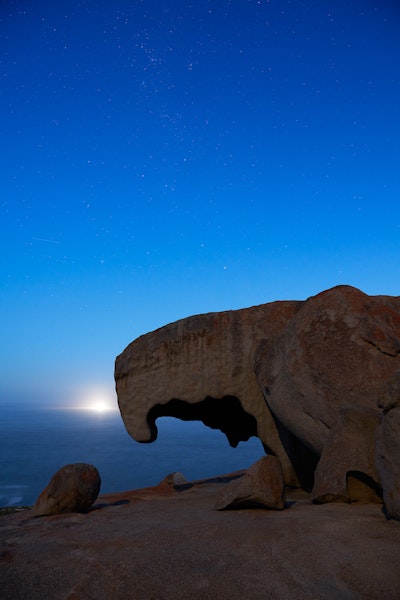 Day 3

Another trip to Remarkable Rocks for sunrise. We were low on time as we had to get back to the other side of the island, return the car and board the ferry back off the island.

We were greeted by low grey skies with almost no colour in the sky. Unfortunately I had already pushed it for time and we had to leave to make it back to the other side of the island and our departing ferry.


I didn't get the type of conditions and photographs I was after, but it was fun and I'm happy I came to see Kangaroo Island.